Program Enrollment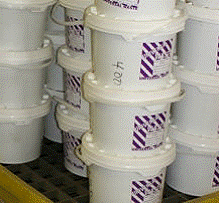 Enroll in ELVS/NVMSRP Program
Please fill out the form below to enroll in the NVMSRP program and request initial ELVS collection buckets.
If your mailing address is different from your shipping address –we must have both addresses. Buckets are shipped via UPS to the shipping address and any mailings need to go to your US Postal address.
If you have a large number of switches on hand, you may request multiple buckets –please indicate the number if you require more than 1 bucket.
Buckets are shipped out via UPS on Fridays. Please allow a minimum of 10 business days for your bucket to arrive. Educational materials and a UPS pre-paid shipping label are included and will be inside the bucket. Be sure to keep the box as you will need to return full bucket in the box.
PLEASE DO NOT DUPLICATE REQUESTS –IF YOU RETURNED A POSTCARD OR LEFT A VOICE MAIL –PLEASE DO NOT ALSO SEND IN AN EMAIL REQUEST.
REPLACEMENT BUCKETS
Requests for replacement buckets should go directly to EQ at 734.547.2511 or send an email to this address: elvsbuckets@eqonline.com. Please do not use this form to request replacement buckets. Call EQ and leave a voice mail with your company name and shipping address and size bucket you need. They will ship a replacement bucket to you.
ACCEPTABLE MATERIALS
IMPORTANT PROGRAM NOTE: THE ELVS/NVMSRP PROGRAM IS ONLY FOR AUTOMOTIVE MERCURY SWITCHES — NO OTHER MERCURY DEVICES WILL BE ACCEPTED. (EXAMPLES: THERMOSTATS, THERMOMETERS, ELEMENTAL MERCURY, WHITE GOODS SWITCHES, SUMP PUMP SWITCHES ETC –)
Please note that if you ship us non-compliant materials, you will be billed for shipping costs of those materials.

YOU MUST FILL IN ALL FIELDS OF THE FORM (REQUIRED):